Bathrooms
Remodeling your bathroom is one of the last home improvement jobs homeowners think about. Before beginning, it is vital to have a well-thought-out plan. Therefore, we limit your selections to those that best suit your needs and desires. It is essential to comprehend certain items, methods and ensure they are executed according to code. We utilize various water-proofing materials to ensure that your bathroom will survive for at least fifty years.
Kitchens
Kitchens are one of the most often used rooms in the house. The kitchen takes a battering, whether the cabinets are coming apart, the door hardware is failing, only half of the appliances are operating, or there is not enough space for everything. When renovating your kitchen, we have several alternatives, including low-cost renovations. This includes replacing appliances, painting cabinets, redoing flooring, and changing the cabinet hardware.
Basement Finishing
Do you need more space upstairs and desire or require additional living space? Many individuals convert their basements into bedrooms, gaming areas, extra family rooms, or more living spaces. Having a contractor that knows your needs and can work with you throughout your ongoing project is a fantastic idea. We will review design ideas and take precise measurements to ensure you have a positive experience and are satisfied as the project progresses.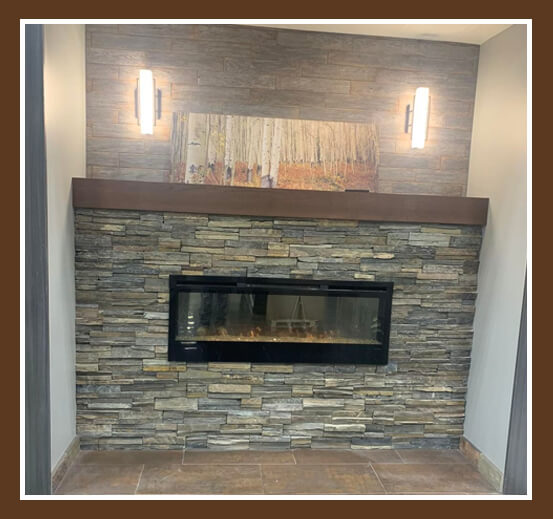 Fireplace Build or Remodel
You may have relocated and miss your former home's fireplace. Maybe you want one in your new residence? We have several alternatives for appropriate locations. We may renovate your existing fireplace, replace the stone and grout, modernize the mantel, or construct a brand-new one from the ground up. You may search for a modern fireplace with an electric insert that requires less maintenance yet provides the same cozy ambiance.